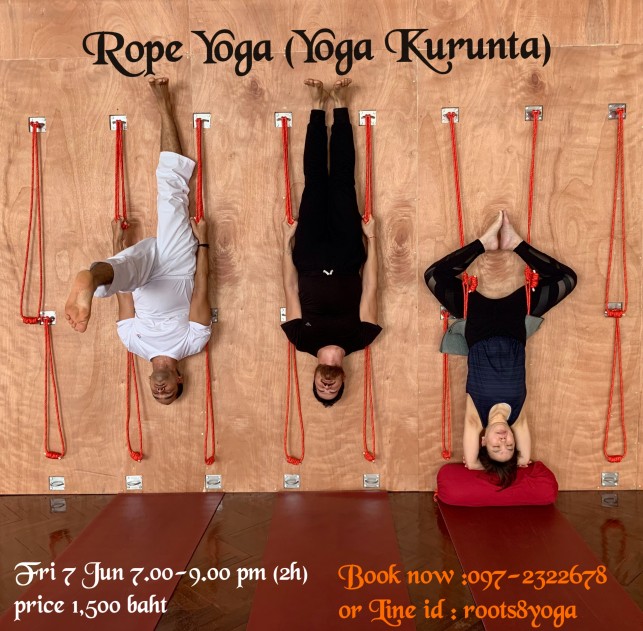 Yoga ropes (Yoga Kurunta)
Yoga ropes (Yoga Kurunta) เป็นอีกหนึ่งวิธีในการฝึกอาสนะด้วยการใช้เชือก เพื่อช่วยจัดระเบียบร่างกาย ให้อยู่ในท่าที่ถูกและสบาย ซึ่งจะช่วยพัฒนาศักยภาพ และปรับสมดุล ให้เหมาะกับสรีระผู้ฝึก
การฝึกด้วยเชือกที่ยึดติดกับผนังใช้ได้ทั้งกับ asanas พื้นฐานจนถึงasanas ขั้นสูง ด้วยอุปกรณ์ช่วยฝึกนี้ จะช่วยให้ผู้ฝึกเข้าท่าได้ลึกขึ้น จัดระเบียบร่างกายให้มีความเสถียร ถูกสัดส่วน ส่งให้ผู้ฝึกได้โฟกัสและดื่มด่ำอยู่ในอาสนะได้ยาวขึ้น
ขอชวนมาเพิ่มประสบการณ์การฝึกกับคลาสพิเศษ Rope Yoga (Yoga Kurunta) สอนโดย Master Krishna Mohan , Certified Iyengar yoga teacher ในวันศุกร์ที่ 7 มิย เวลา 19.00-21.00 ( 2 ชั่วโมงเต็ม)
ราคา 1500 บาท (สมาชิกลดเหลือ 1200 บาท) จองได้ที่ 097-2322678 line id: roots8yoga
———————————————-
Rope Yoga (Yoga Kurunta) Special Class on Friday 7 Jun at 7.00-9.00 pm (2h) Class instructor by Master Krishna Mohan , Certified Iyengar yoga teacher.
Yoga ropes ( Yoga Kurunta) is a method of performing a variety of asanas with help of a rope to enable the student to attain accuracy, agility and balance.
This guide is presented to illustrate the use of wall ropes and how they can be used with some basic asanas as well as some more advanced asanas.
Props are means for achieving an end such as alignment, stability, precision and prolonged stay in asanas. Props make it possible for every person to enhance their sadhana (study and discipline of yoga)
Benefits:
▪️Anchor your pose and expand your movement
▪️Discover a new and exciting way to practice yoga.
▪️Reach places where your regular practice cannot take.
▪️Reap the benefits of sustained asanas.
Drop in fee 1500 baht ( Roots8 's members only 1200 Baht)
Booking now !! At 097-2322678 or Line id : roots8yoga